We had company last night, with all the beds filled. No big deal, I want to try out my hammock, anyway
I'd used it once before on a motorcycle trip, but it was warm enough I just put my jacket under my butt. Last night it was supposed to go down to 45*, so I wanted to test it with my cheapo $10 wallyworld 40* bag. I unzipped it almost all the way to the foot, leaving ~1' zipped up the side. I was completely comfortable in thermals, but probably didn't need them, I had to vent in strategic places. The hardest part was keeping the slippery bag from sliding on the nylon
My step-daughter wanted to try it out this morning, so I took some pics. We had a houseful, so ignore the extra people & dogs roaming around
I didn't use the bugnet last night, but she wanted to see it. It's not my permanent solution, but when I rode to CO I figured I would need something. I just got an excess of bugnetting and drape it over the ridgeline. I fold the corners up & clip them: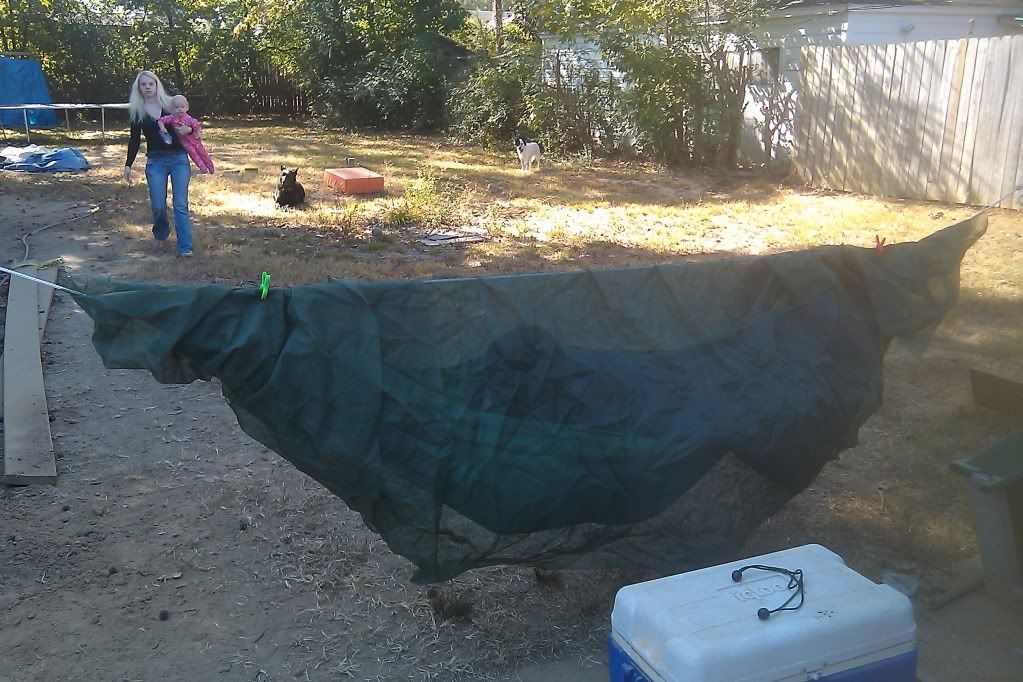 Close up of the corners:
It actually works really well, although the excess netting is pretty bulky. I'll probably end up using velcro at some point.
Here's little miss trying it out. She liked it: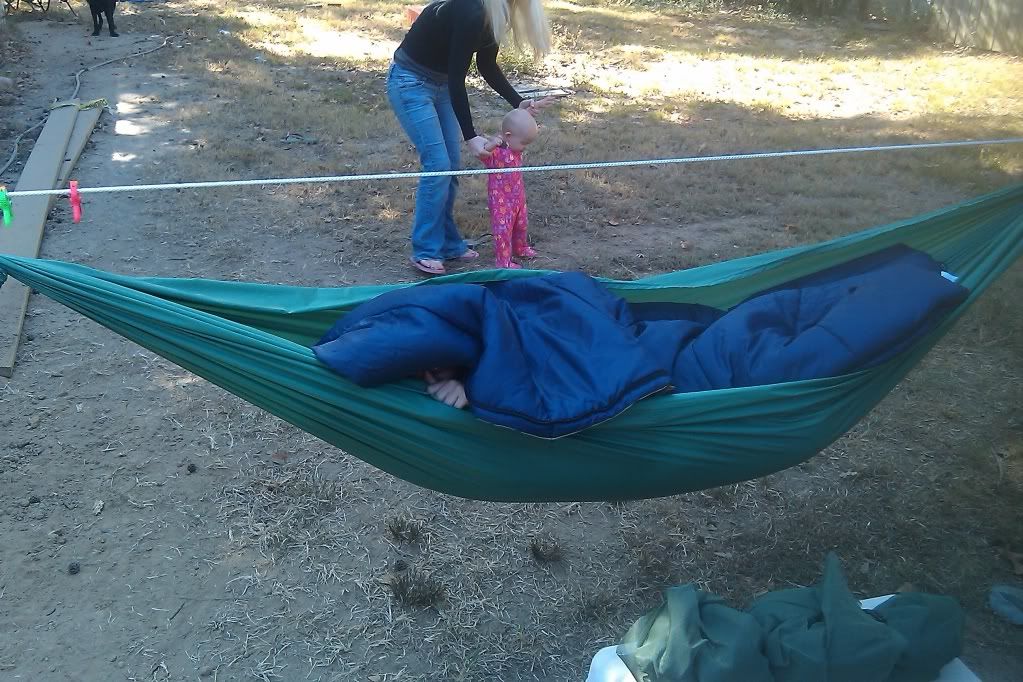 I'm not overly happy with my suspension. I went to Lowe's & got something that claimed to be abrasion resistant, and rated to >750# (I think it was >1000#). I was in a hurry & just wanted to get something that would work until I could get some amsteel. I also picked up some Harbor Freight tow straps & cut the big buckles off. This rope is stretchy, After I sat in it 5 minutes, I had to get out & readjust, although after that it lasted all night. The ridgeline was straight when I went to sleep, you can tell it stretched a bit. I don't have loops sewn in the straps yet, so I just folded the end up & used a modified Hennessey figure 8.
I used one long piece for the ridgeline, and used overhand knots to put loops in it. This way I can string up the ridgeline first, use a lark's head to attach one end of the hammock, then unroll the rest of the hammock & use another lark's head at the other end.
I primarily either camp on bike trips or from a car, and I wanted something fairly quick & easy to set up, and wasn't too concerned about weight. The size could definitely be improved. Sleeping bag next to the rolled up hammock. I fold up the bugnet & roll it tight as possible. Then I unhook one end of the hammock and roll it up around the bugnet. After I unhook the other end, I take down the suspension & put it in the end, & wrap a shock cord loopy thing around it all. The hammock & bag easily fit inside the big ol bag the sleeping bag came in. Here they are next to each other w/ a pack of bad for size reference. The end size is about the same as the sleeping bag uncompressed: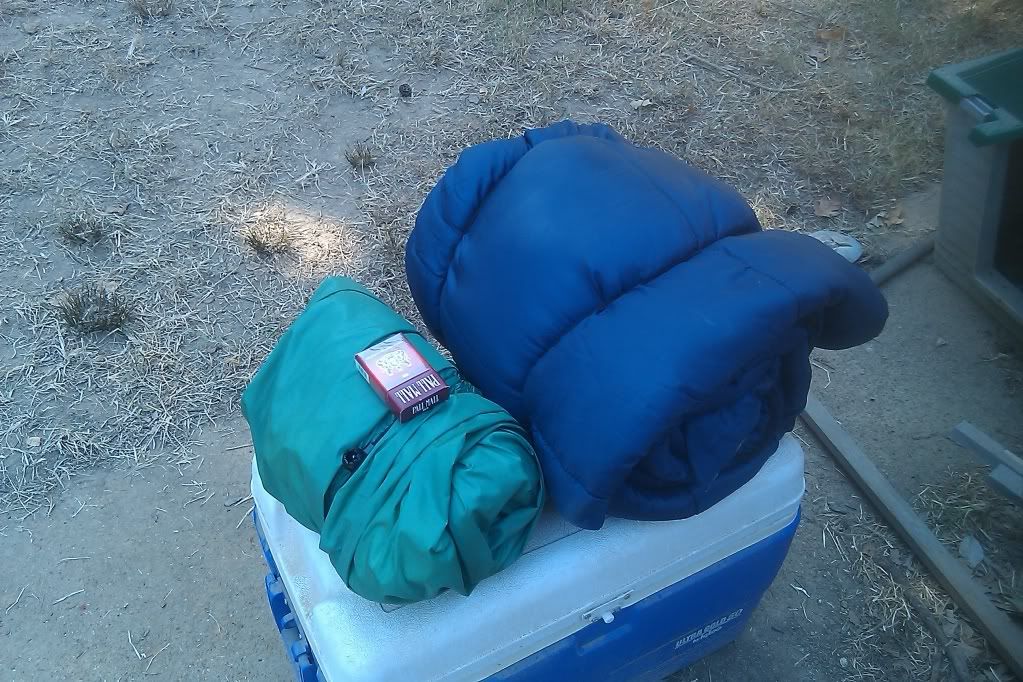 On my to-do list is a tarp. Right now I carry a cheapo Harbor Freight 10x8 camo tarp (silnylon is mucho dineros). So far I haven't had to use it. I also want to make some stuff/compression sacks to hold everything. I picked up some heavy coated nylon on sale yesterday, but it's not ripstop. Should that make a big difference on a sack?
Well, ok. Long post. Overall, it works & I'm happy with it. I got a bunch of info here, so I wanted to at least say thanks